The crypto world followed with fervent interest the latest developments in a high-profile legal battle with the Securities and Exchange Commission (SEC). On Tuesday, the release of documents related to the "Hinman Speech" added a fresh twist to the Ripple vs. SEC fight over XRP's classification as a security. The so-called "Hinman Papers" have sparked frantic debate online. Much of the commentary interprets the documents' release as a big win for Ripple.
The documents relate to remarks made by William Hinman, who was director of the Division of Corporation Finance at the SEC from 2017 to 2020, and they figure in the lawsuit against Ripple Labs. These "Hinman Papers" are now available to the public.
Was Hinman Speaking on His Own Behalf?
The SEC sued Ripple in 2020 for selling XRP as an unregistered security. However, Hinman's written opinions appear to favor Ripple's side of the argument.
The release had a positive impact on the XRP markets, as prices surged by over seven percent in the last 24 hours. Traders seemingly placed their bets on a favorable outcome for Ripple Labs in the ongoing lawsuit. 
However, the release of the papers has sparked a flurry of speculation and interpretation, with investors, community members, and reporters eagerly trying to determine their significance. Twitter buzzed with intense debate over whether Hinman's opinion represented his personal view or the official stance of the SEC.
In one of Hinman's emails, he writes:
Attached please find a draft of the speech I had mentioned, which suggests that we do not need to see a need to regulate Ether, as it is currently offered as a security. (Emphasis ours.)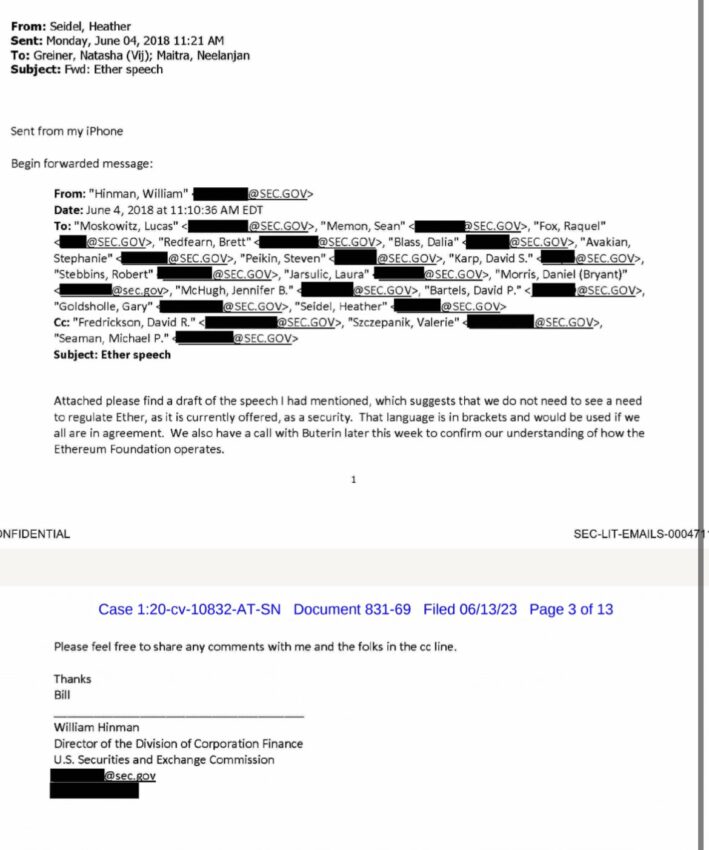 Commentators were quick to weigh in. Much of what they had to say favored Ripple.
"My biggest takeaway from these #HinmanEmails is that it seems @SECGov officials who weighed in on the speech believed the goal was to provide market guidance and tried to write it in a way that would convey that," said Eleanor Terrett, a reporter for Fox Business.
"Thus, in the @Ripple case, the SEC lawyers' argument that the speech was solely Hinman's opinion and not intended for market guidance could now be undermined."
What is #EthGate?
Furthermore, the behavior of the SEC regarding Vitalik Buterin, the founder of the Ethereum Network, confused many observers. One document reveals that Buterin had a call with Hinman, and appears to have influenced his thinking and conclusions. Many critics say this influenced Hinman to grant Ether (ETH) a "free pass" by not classifying it as a security.
"Hinman had a call with VITALIK to understand how [Ethereum] works to clarify the security question," stated one Twitter commentator. "That is the same as someone is accused of murder so let's call only the suspect, ask him questions, and make a judgment based upon his own answers."
Many on Twitter accused the SEC of giving Vitalik Buterin's Ethereum special treatment. XRP holders and their supporters are referring to this alleged collusion as #EthGate.
On Tuesday, Ripple's Chief Legal Officer, Stuart Alderoty, called for an investigation to "understand what or who influenced Hinman."
However, some were less entertained by the whole drama. One noted crypto commentator, Bennett Tomlin, said with caustic wit: "Imagine having enough $XRP bags in 2023 that you end up thinking these emails are exciting… The emails before the speech which contain the shocking reveal that Vitalik and Hinman had a brief phone call once."
The post Crypto Community Reacts to Hinman Papers' Release in SEC vs. Ripple Lawsuit appeared first on BeInCrypto.