TRON price has been in the red for three consecutive days amid continued volatility in the cryptocurrency's value. At the time of writing, TRON price was trading 2.36% lower at $0.07804. The asset's total market cap has crashed by nearly 5% over the last day to $7 billion, while the total volume of the TRX traded over the same period jumped by 49.88%. TRON ranks 10th in the crypto market after Solana.
What is TRON?
TRON is a decentralized blockchain-based operating system developed by the TRON Foundation and launched in 2017. Initially, the project was created to provide full-ownership rights to digital content creators. Its main goal is to help content creators, who earn small incomes, and encourage them with more rewards for their work.
TRON was founded by Justin Sun, the current CEO of the TRON Foundation. The TRON software supports smart contracts, various kinds of blockchain systems, and decentralized applications (dApps). TRON uses a consensus mechanism called delegated proof-of-stake.
The platform uses the same transaction mode as Bitcoin, where transactions take place in a public ledger where users can track the history of operations. Unlike other blockchain projects with opaqueness about their development plans, TRON publicly delivers its intentions for the coming years.
TRON Price Performance
Like major cryptocurrencies, TRON tends to move in tandem with the broader crypto market sentiment. The asset has plunged by more than 6% over the past week but is up by 43.91% in the year to date. Crypto market jitters amidst uncertainty over the global economic outlook and falling risk appetite, the drop in the TRON price aligns with weakness in the cryptocurrency market. Struggles at various crypto firms have also spooked investors.
Despite its recent downfall, TRON has jumped by more than 25% in the past month, outstripping the global crypto market. Prudent developments amidst broader crypto market tailwinds could see TRX chart more upside. Even so, TRON faces stiff competition from faster and more decentralized smart contract platforms like Solana and Avalanche.
TRON Price Prediction
The 4-hour chart shows that the TRON price has been in a steep freefall for the past few days amid increased volatility. The asset has dropped below the 25-day and 50-day exponential moving averages with its Relative Strength Index (RSI) in the oversold region at 19. The Moving Average Convergence Divergence (MACD) indicator, as well as the momentum indicator point to more downside.
Therefore, the TRON price is likely to pull back further in the ensuing sessions as bears eye the net support at $0.07650. However, a flip above the hurdle at the 50-day EMA at $0.0816890 could pave the way for more gains, pushing the price higher to the next resistance level at $0.085790.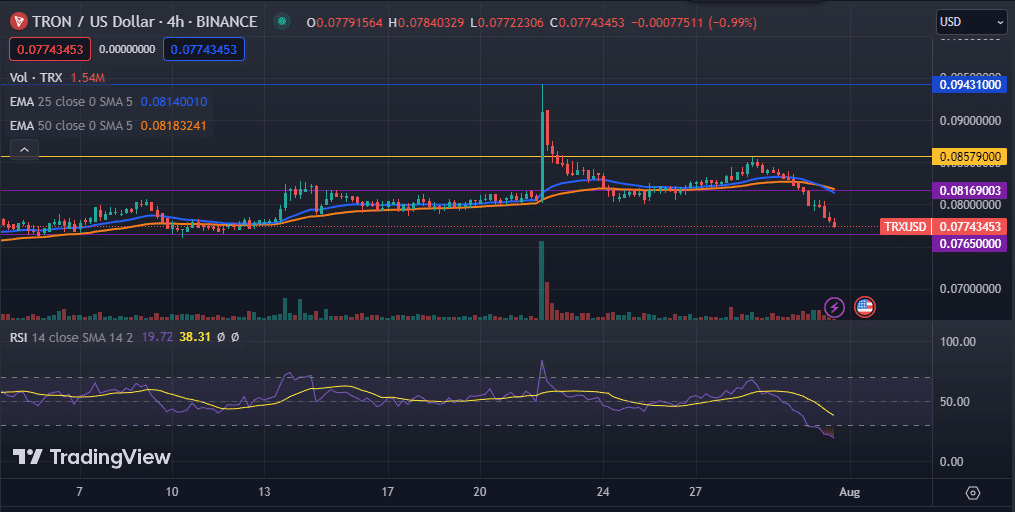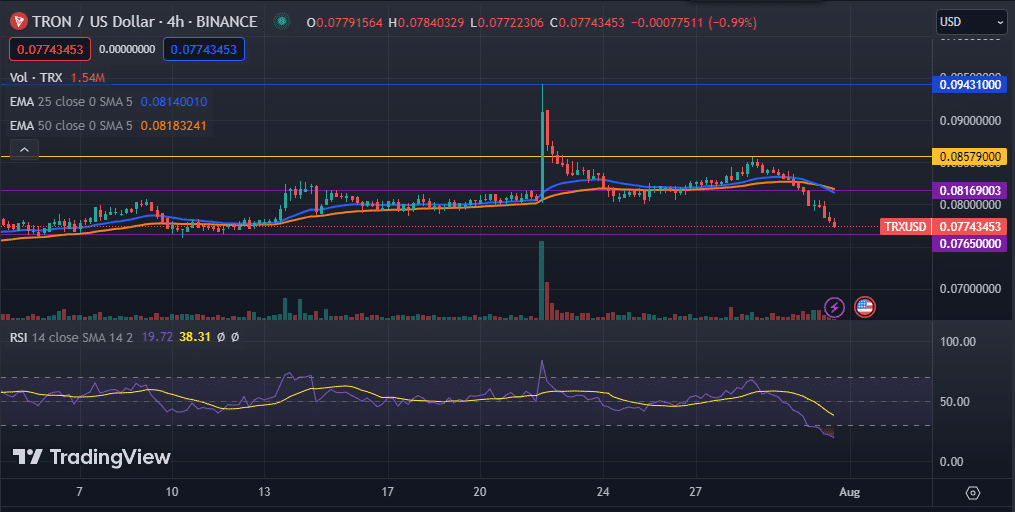 The post TRON Price Plummets for the Third Day as Market Jitters Weigh on Risk Appetite appeared first on Global Coin Report.