Solana made a new high for the year
A double bottom might be in place
All eyes are on the Federal Reserve's interest rate decision
Investors in the cryptocurrency market have had a mixed year so far. Those betting on the rise of Bitcoin or Ripple have enjoyed impressive returns. 
For example, Ripple has delivered a triple-digit return so far in the year, as the cryptocurrency reacted to a positive ruling by a federal judge saying that when sold to institutional investors, Ripple is a security. 
Bitcoin is up around 80% on the year, on a mix of short-squeezing and dollar weakness. 
But not all cryptocurrencies have rallied like that. Take Solana, for instance. It rallied at the start of the year together with Bitcoin, but then, unlike Bitcoin, it gave up most of its gains. 
Nevertheless, during July, a short squeeze sent the market back to the horizontal resistance given by the $30 level. While the market failed to hold above, it did make a new high for the year, triggering optimism among investors.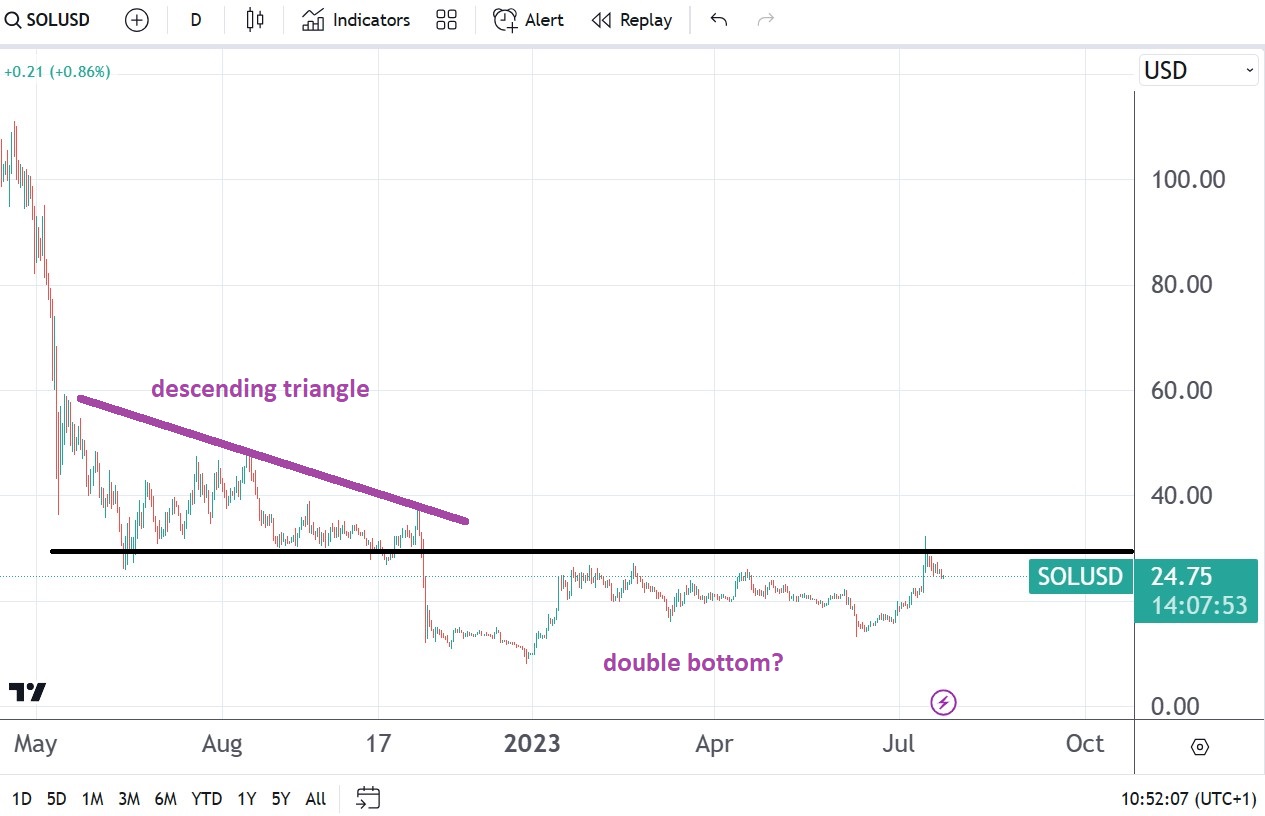 Is a double bottom in place?
The $30 level offered resistance for the entire year. The fact that the market pierced it is a bullish sign, and one should not be surprised to see another attempt higher. 
However, there is one condition that must hold. That is, Solana should not make a new low. 
If it does not, one can talk about a possible double bottom area, even though the second bottom is a bit higher than the first one. Given the fact that this week the Federal Reserve of the United States is about to announce its interest rate decision, volatility will increase in the cryptocurrency market too. As such, another attempt at the resistance area, which provided support back in the past, should not be discarded, especially if the Fed signals that the terminal rate for the current tightening cycle is reached with this final hike. 
The post Solana finds stiff resistance at $30 in July, but bulls keep trying appeared first on CoinJournal.